On Monday, July 10th, 2017, Socially Africa, First City Monument Bank Team (FCMB) and the Eko Tag team visited Army Children Primary School situated in Lagos, to paint inspiring artwork within the school building and donate a series of items to the kids.
The day began on a bright and sunny mood, even nature seemed especially happy about the continued work affecting the lives of children through art. The turnout was massive with a continued increase in volunteer presence to engage the over 500 pupils.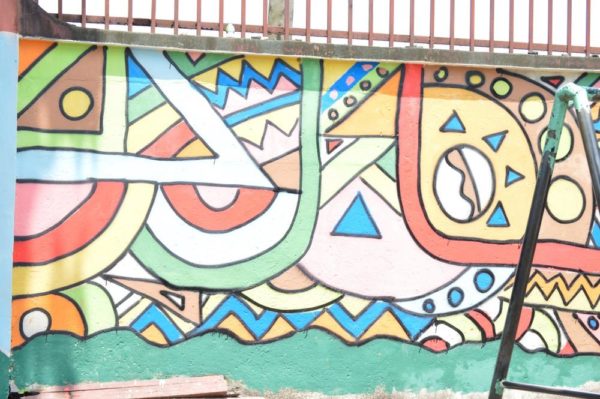 The event commenced at 10:15am with an introduction to Socially Africa and the Art For A Cause Project. Osa Seven, Nigeria's Foremost Graffiti Artist, led a team of artists and volunteers as they created a series of murals on the 50ft wall.
The kids participated in the mural painting, creating a beautiful butterfly piece with multi-colored palm prints; a permanent impression of their creativity that would inspire them for years to come.
Among them were those who showed budding artistic skills and they were encouraged to create personal pieces, telling stories through their art.
Every Art for a Cause edition leaves behind an inspired generation of children itching to experience, appreciate and create art.
FCMB is known for its culture of excellence, as one of the financial institutions in Nigeria that has shown immense support when it comes to the promotion of Nigeria's arts and culture. Since it began its partnership with the #Ekotag platform, the Bank has been involved with encouraging the emergence of fresh art talent. Donations of books and art materials were also made to the children before the day came to a close.
First City Monument Bank (FCMB) is a member of FCMB Group Plc, which is one of the leading financial services institutions in Nigeria with subsidiaries that are market leaders in their respective segments. Having successfully transformed to a retail and commercial banking-led group, FCMB expects to continue to distinguish itself by delivering exceptional services, while enhancing the growth and achievement of personal and business aspirations of its customers.
The success of the event was largely due to collaborative effort, and our ability to support each other. With the presence and invaluable efforts of First City Monument Bank, Eko Tag, Shola Animashaun photography, Socially Africa and the volunteers from the Amber Circle, Art For A Cause Edition 8 was a huge success.
See more photos from the event: